A Next-Gen Mobile App in the Marketplace for Service Professionals
Digital Innovation in Marketplace for Service Professionals Industry
A Mobile platform connecting customers to a network of service providers.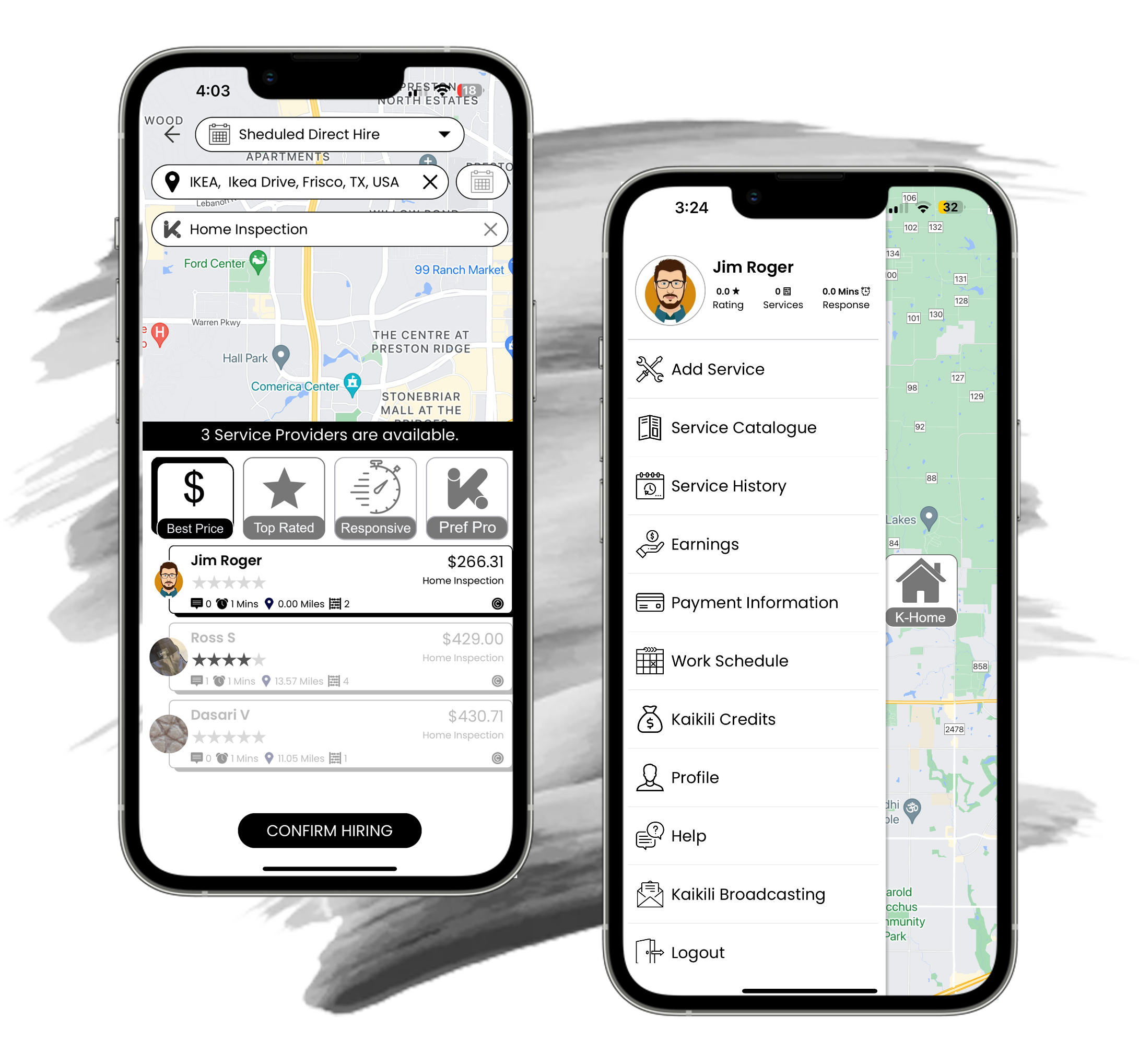 Open Mobile Platform in the Marketplace for Service Professional Industry
What is Kaikili USA open mobile platform? 1. Its free platform unless you get hired. 2. Free App installation and Free registration. 3. No monthly/yearly subscriptions 4. No credit card linked to the Pro account 5. No leads concept or fee (every request is 100% direct hire request) 6. Free listing - Individual professionals define own service area, schedules, rates etc. 7. No hidden fees except platform commission 8. There will be a platform commission for every hire. It ranges from 11.25% to 15%. Commission will be deducted from customer payment.
Platform Features
Schedule Direct Hire
Neighborhood Hire
Request Quote
Kaikili's Schedule Direct Hire option, customers can hire local top-rated providers with competitive prices. Before hiring, customers can able to view the provider's profile, service offerings, price, rating, and response time. Hiring notification and confirmations are sent using Kaikili's real-time alerts system. The platform's real-time geolocation feature helps customers to hire services based at their location or on the road.
Kaikili's Neighborhood Hire option enables customers to hire providers with flexible schedules who are located in their neighborhood and offer greater discounts. To use this option, customers must save their service requirements, it will be visible to local providers as free lead through (Shout).
Service quotations are estimates only. Kaikili offers various estimation services that can be conducted in-person or remotely, depending on the provider and customer requirements. For all services under the service quotation, the provider must share the estimate either in person or through the mobile messenger. The customer must specify clear requirements and provide photos with the request.
What Makes Kaikili Different
No Signup and Subscription fees
Provider 360° View - In finger tips
Providers 'Shout' - Free Leads
One-to-One Schedule Direct Hire
Kaikili's Preferred Hiring
Request Quote - Estimation Only
Customer and Provider Identity
Customer and Provider Tools
Kaikili Credits
Pre-defined Service Template
Service provider and customer registration and sign-up is completely free with no monthly or yearly subscription fees. It is a lifetime free subscription with a free listing for provider profiles. Providers are fully in control of their service profile, service area, work schedule, and pricing and can manage their profiles at any time. Providers undergo real-time background checks performed by a third-party nationwide background check organization to ensure a clean service history. Customer identity is verified through three levels: mobile number, address, and valid payment method.
The complete information of a provider can be viewed in the search list, including the number of reviews, response time, distance, number of services offered on the Kaikili platform, worker insurance, professional certifications, and discounts offered. Additionally, when the customer taps on the provider's profile picture, their full profile will be displayed, including a description of the provider, past provider work pictures, and reviews.
The 'Shout' feature for providers is a way of reaching out to potential customers through the Kaikili Service Provider app. Providers can find and interact with potential customers using Kaikili's advanced real-time geolocation tracking, mobile alerts and notifications, and application intelligence. Providers can reach out to potential customers even while en route to another scheduled service.
The One-to-One Schedule Direct Hire feature allows customers to hire local professionals for their specific needs. Every customer request is considered a hiring request. Customers can choose and hire a professional based on their price offerings, rating, and response time. Customers can thoroughly research a provider by reviewing their profile and service prices without having to interact with them, reducing research time and eliminating back-and-forth communication. Kaikili's One-to-One Schedule Direct Hire brings transparency between customers and providers.
Customers can hire Kaikili's preferred providers at highly competitive prices. Hiring requests are time-sensitive, with notifications being sent to multiple local providers simultaneously. The provider who first accepts the service request will be selected for the job.
Service quotations are only estimates of services. Kaikili offers a wide range of estimation services, which can be performed in-person or remotely depending on the provider and customer requirements. Under these service quotations, the provider must share the estimate either in-person or through a mobile messenger. The customer must clearly specify their requirements, including photos.
Customers are verified in three levels: address, phone number, and credit card attached to their account. Providers will be registered only after successfully completing a third-party background check.
A personalized dashboard (COST HELPER) will help providers determine market prices and their competitiveness in the market. Customers also have the option to view market prices by selecting a Kaikili preferred provider from the list of providers."
Providers can participate in Kaikili's credit earning program to become marketing partners. Kaikili offers three types of credits, which are not cash redeemable. Credits apply to 50% of each transaction commission. One-time registration credits Provider referral credits (no limit), credited after successful completion of a transaction by referral Kaikili is offering service providers the opportunity to participate in a marketing campaign program, which returns 50% of the commission at the end of the marketing campaign.
The Kaikili Pro app comes with predesigned service cost configuration templates, which are specific to each service type. The cost configuration templates are built on industry-standard cost estimation guidelines. Each service includes a cost helper and market price, which guides providers in setting service rates. The market price is calculated using various statistical tools and machine learning algorithms, and all configurations are personalized by each provider. These services are available for customers location services (ex: duct cleaning, home inspections) and on the road (such as for towing and auto repair services, etc.).